Let Us Introduce You To:
Matias Letelier
New York's Hottest Illusionist, Mentalist and Pickpocket
for Corporate Magic Shows in New York, NY!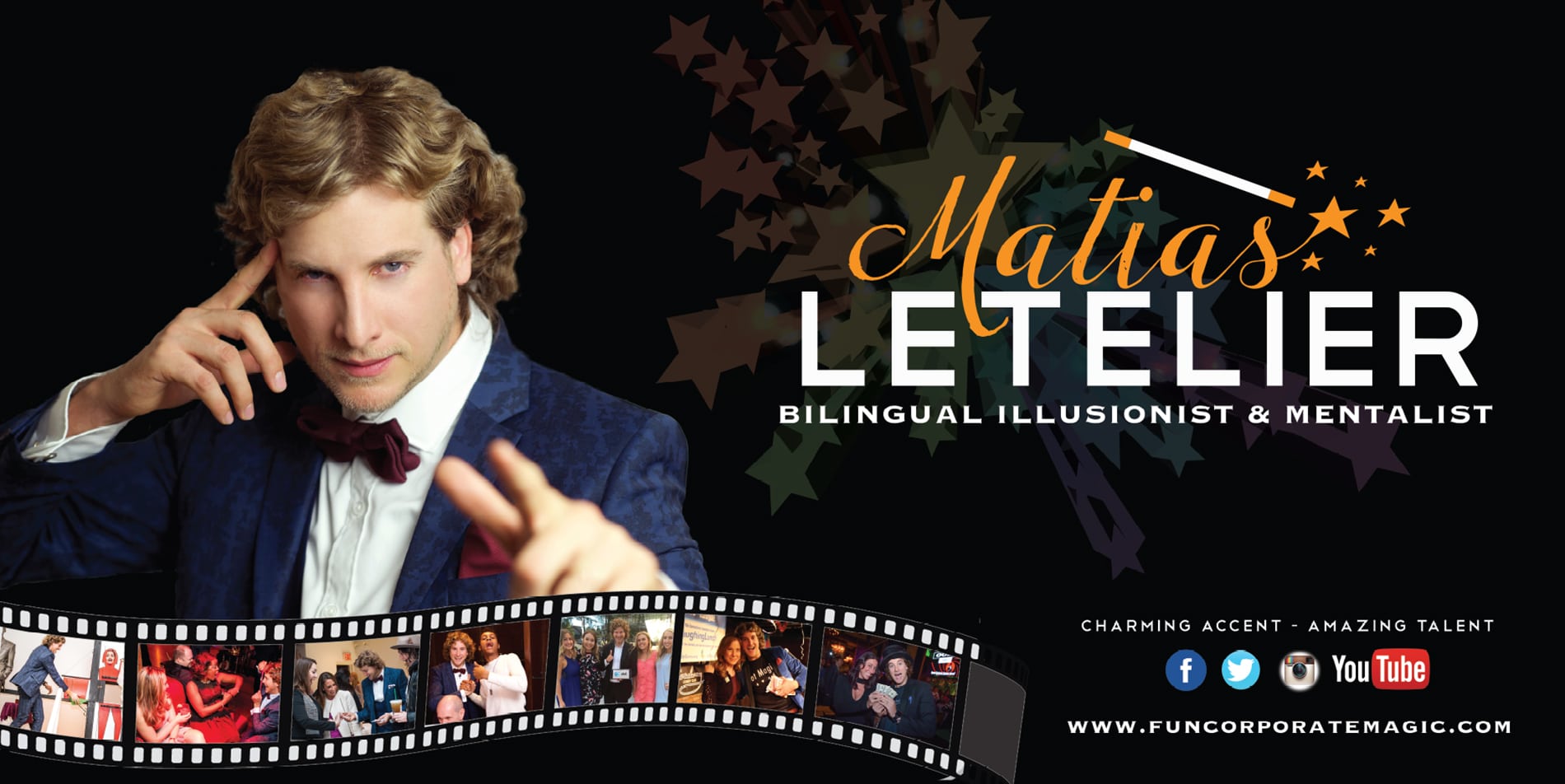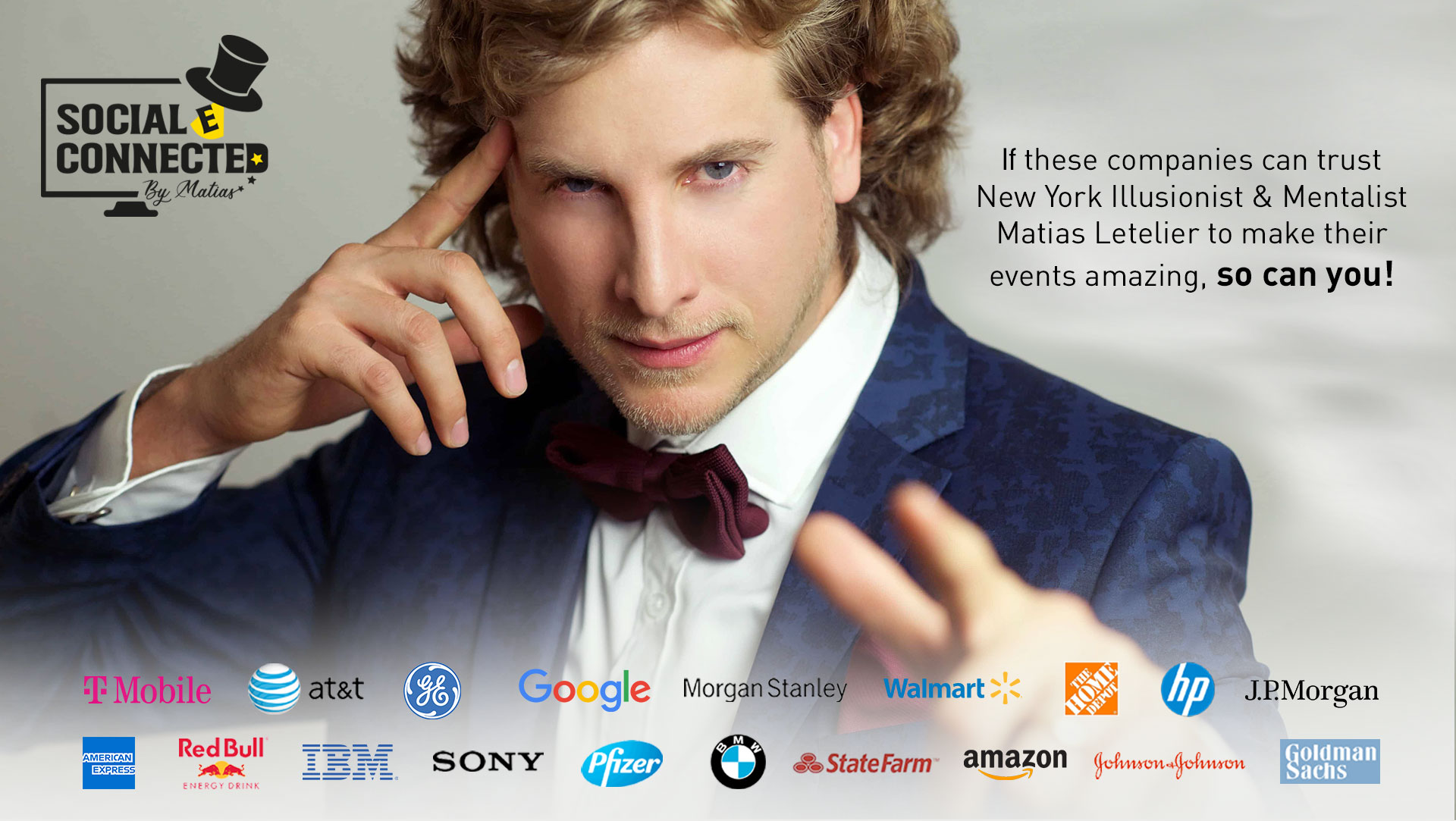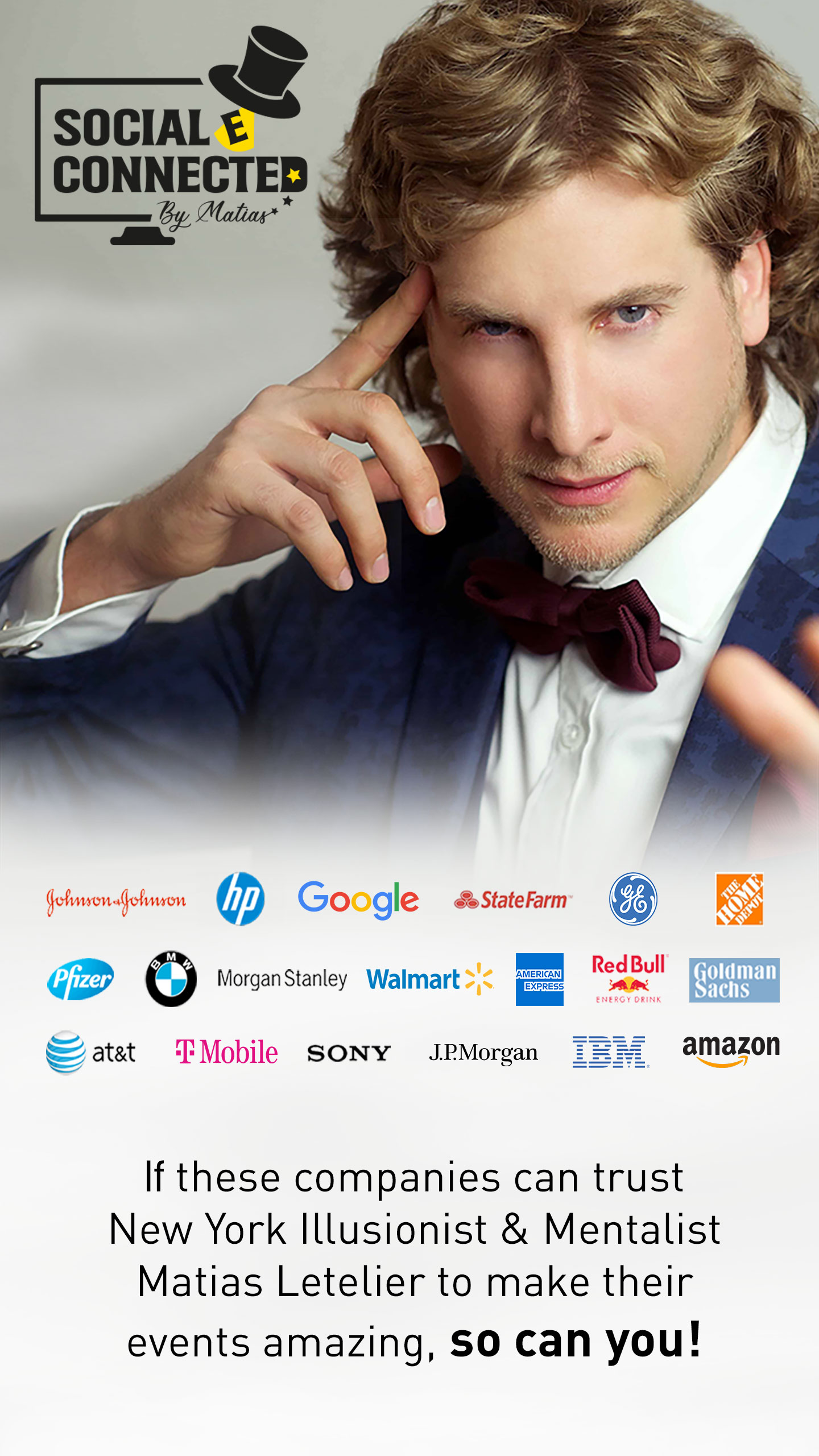 In addition Matias has brought his show to many more corporate and private events in New York and other cities in the New York area, including the following New York based companies:
ARGONAUT

, New York, NY

CISCO, New York, NY
Lifetime Brands | Mikasa, New York, NY
Sunshine Daycare, New York, NY
L'Absinthe, New York, NY
One Penn Plaza, New York, NY
BNI Lucky62, New York, NY
VALENTINO

, New York, NY

COLE HAAN, New York, NY
Capital ONE, New York, NY
KPMG, New York, NY
Haineken, New York, NY
CNN, New York, NY
SMARTLING, New York, NY
NOOR STAFFING GROUP

, New York, NY

GIC

, New York, NY

BON BEBE

, New York, NY

EDUCATION THROUGH MUSIC

, New York, NY

BEME

, New York, NY

INSTRATA

, New York, NY

LISS CONSULTING

, New York, NY

YOUR VIP PASS

, New York, NY

BOOKSTR

, New York, NY

CORIGIN

, New York, NY

ONEGIN

, New York, NY

FIRST EAGLE INVESTMENT

, New York, NY

WEWORK

, New York, NY
Illusionist & Mentalist Matias Letelier is available for Corporate and Private Events all over USA
Corporate vents
Country Clubs
Private Parties
Wedding Receptions
Awards Nights
Banquets
Galas
Corporate Functions
Grand Openings
Product Activation
Client's events
Christmas Parties
Holiday Parties
Summer Picnics
Family Fun Days
Conventions
Trade shows
Other Special Events
We Guarantee His Charming Accent Along With His Unique Blend Of Top-Notch Magic, Mentalism, Clean Comedy, Pick Pocketing, High Energy, And Lots Of Audience Participation Will Make Your Next Corporate Event In New York Fun, Amazing and Memorable, Or You'll Get The Show FREE And We'll Donate $100 To Your Favorite Charity Just For Wasting Your Time!
Hear what people say about Matias shows in New York and Manhattan!
"Customers and clients really gave great feedback on Matias. He was engaging, funny, and gave wow moments to his audience. Will highly recommend him for corporate events and will use him in any of my upcoming future corporate events. Good job Matias!"
"Matias entertained us at a work party on Friday. He was fantastic! He's been the topic of conversation at work today. Our colleagues who didn't go to the party missed a great time. I would recommend him for your next gathering large or small!"
"Thank you, Matias! Looks like everyone enjoyed you very much! I did get a lot of good responses from everyone! Thank you! We will definitely work with you again for future events!"
Who is Illusionist & Mentalist Matias Letelier?
Thank you for your interest in Matias' Corporate Magic Show for your upcoming event in New York area. We call him the New York Corporate Entertainment Specialist because he knows how to delight your guests with Fun Corporate Magic! Many times throughout the year he helps make corporate events in New York fun, entertaining and exciting. The best style of entertainment for corporate events is an illusionist, mentalist and pickpocket who can provide a fun and interactive experience for your guests. And Matias offers a stage show where he performs illusions and comedy tricks; or close-up magic, mentalism and pickpocket during the reception or cocktail hour where the magic happens in the spectator's hands. Both will have everybody laughing, entertained, amused and amazed. Everybody will be involved with the magic as it includes lots of active audience participation. Just imagine your guests' faces when Matias makes a table float in the air or when he turns five $1 bills into $500!
We know how stressful it can be to plan your event. Allow us to help you make it a complete succes!
Two Different Styles Of Magic To Make Your Event Unforgettable!
1. STAGE ILLUSION SHOW WITH ASSISTANT
This is a professional show that will turn your event into a fun and memorable night! You'll see Matias perform his world-class illusions with his assistant Coni. He will keep your guests engaged and entertained with his clean comedy and interactive magic. And will include your company's name or products in some custom tricks specially created for your event. Plus, Matias will pick-pocket some of your guest's watches, wallets, cellphones and more. Also 4 of your guests will float in mid-air in a trick that will have the whole audience hysterically laughing. And we guarantee everybody will talk about it for years to come!
These Are The Types Of Memories Your Guests Will Be Talking The Day After The Party For Years To Come!
This is a one man show (no assistant) that is better for small events or private parties at a restaurant. No need to have a proper stage and it can be accommodated to small and large venues. The Show includes some great illusions and lots of audience interactions. Matias will also performs tricks especially created for your event by using your company's brand name, logo, or products
3. STROLLING CLOSE-UP MAGIC, MENTALISM & PICKPOCKET
This is where Matias mixes and mingles with your guests performing short five to ten minutes sets that include top-notch magic, clean comedy, mentalism and pick pocketing. Everybody will be involved with the magic happening right in their hands. Just imagine your guests' faces when Matias reads their minds, turns five $1 bills into $500 or pickpocket their watches, wallets, glasses and more!
Are You Ready To Experience The Best Magic Show
For Your Next Holiday Party or Private Event?
Fill out the form bellow to book your show today!
DO NOT DELAY!
DATES FILL UP EXTREMELY FAST
Please note Illusionist & Mentalist Matias Letelier will also travel to New York, Manhattan, Westchester, Queens, Staten Island, Long Island City, Brooklyn, North Bergen, Bronx, West New York, Union City, Weehawken, Flushing, Fairview, Edgewater, Hoboken, Jersey City, New Jersey, Philadelphia, Boston, NY, NYork, Ridgefield, Cliffside Park, Palisades Park, Fort Lee, Secaucus, Ridgefield Park, Leonia, Englewood Cliffs.
<iframe src="https://www.google.com/maps/d/embed?mid=1tsL_KxPgepJ0LZTW-CidiVusG_-CKbOX" width="640" height="480"></iframe>