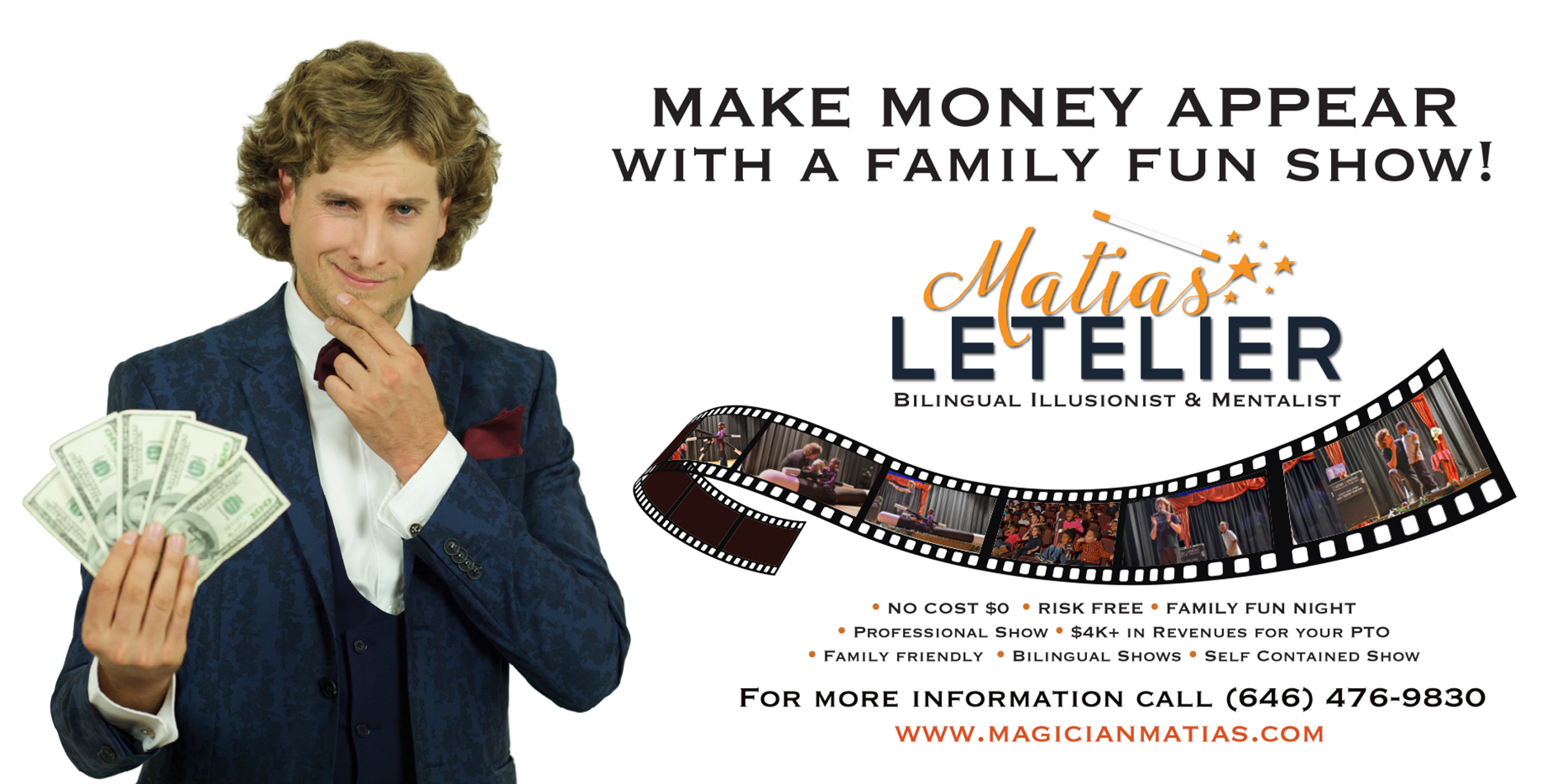 Let Us Introduce You To:
Matias Letelier
The only magician that can make
thousands of dollars appear for your PTO/PTA
with a family fun magic show fundraiser!
We Guarantee His Charming Accent Along With His Unique Blend Of Top-Notch Magic, Mentalism, Clean Comedy, Pick Pocketing, High Energy, And Lots Of Audience Participation Can Help You Make Thousands Of Dollars For Your PTA/PTO!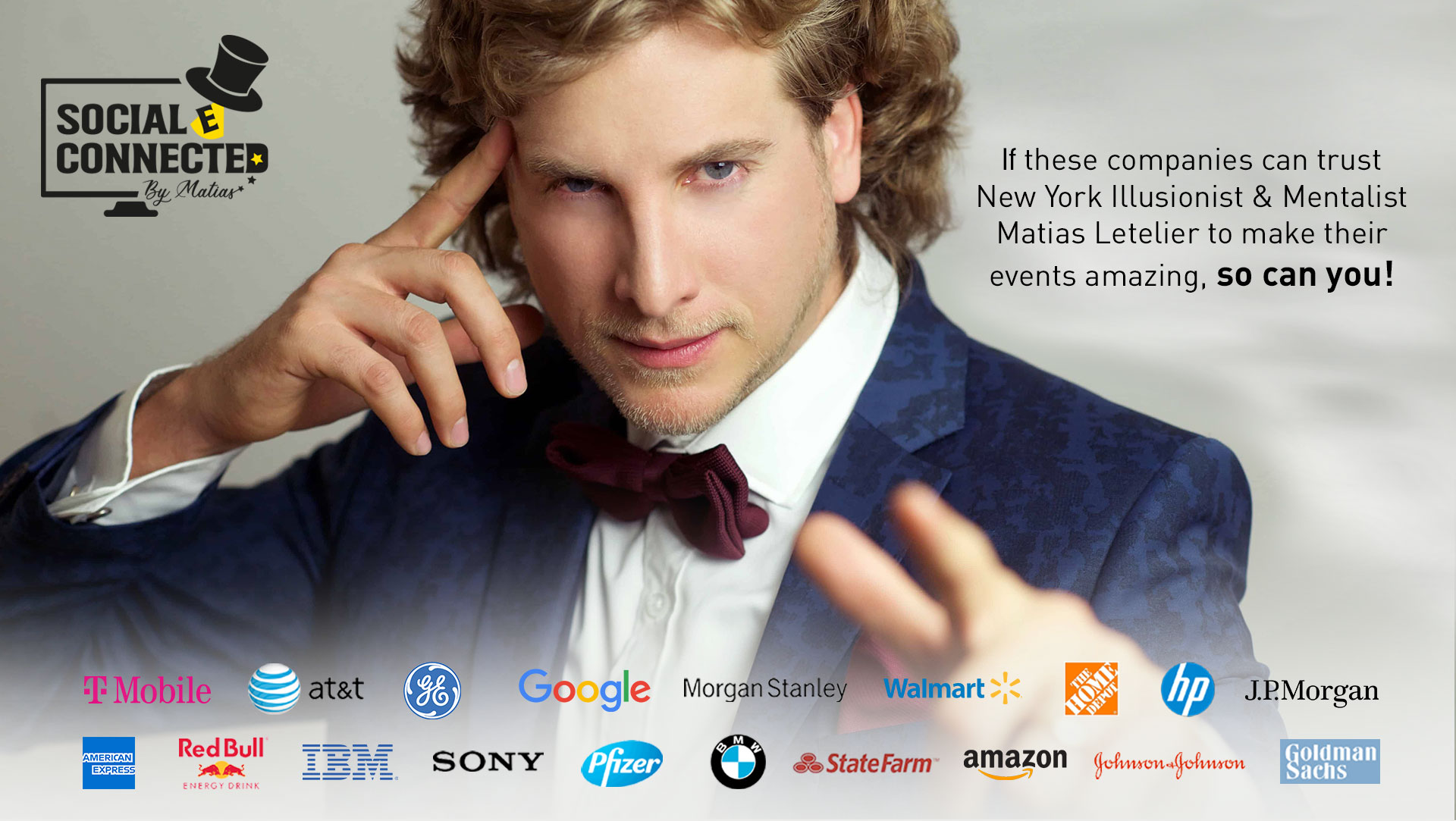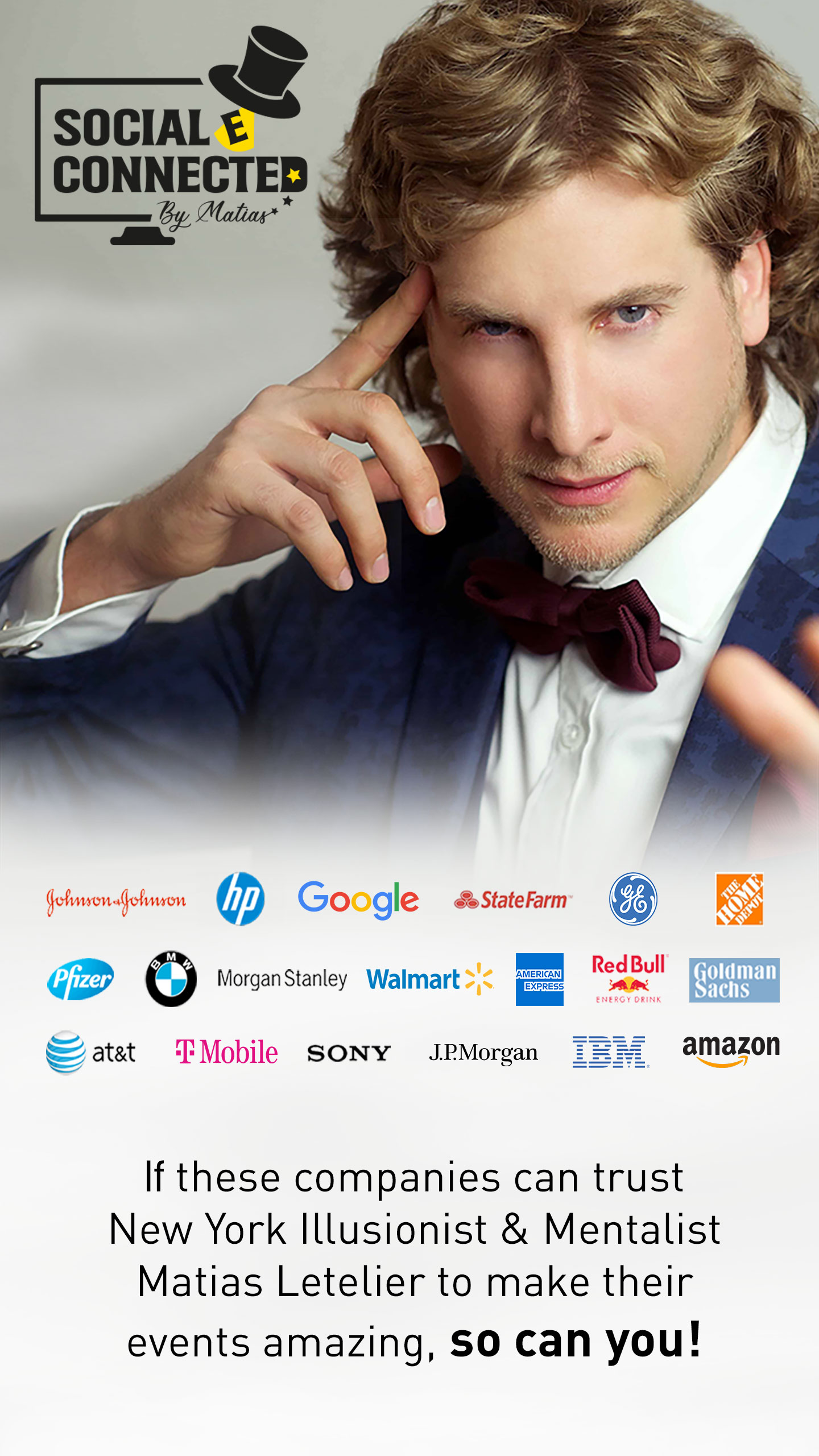 Would you like to have a risk-free event that has a profit potential of $ 4,000+?
This great fundraiser program is modeled after a proven step-by-step system from a magician who has helped numerous schools and PTO's raise money with a fun program that will turn a Family Fun Night into thousands of dollars for your school or PTA/PTO. The best part is that there is absolutely no risk for you!
We were amazed when we discovered this system and are excited to share this fundraising program with you! And, we will share amazing tips that will help you increase your revenue even more!
This step-by-step program includes how-to suggestions for promoting your fundraiser using local and social media to attract a large audience! We know how successful our program is. We are excited to start working with you right away!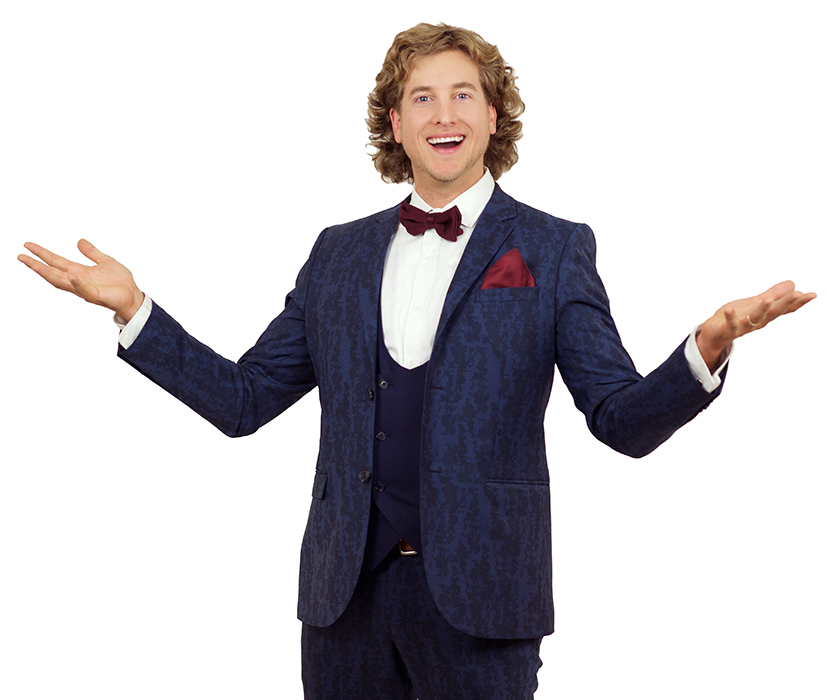 Hear what people say about Matias shows in New York and Manhattan!
"Our students loved the show. The 2 performances were differentiated for the different grade/levels, and both shows were fantastic! Students were able to use their imagination to enjoy magic."
"Matias was very professional in the planning process of booking this event for our elementary school. He arrived early to have plenty of time to setup. His set is perfect with a wonderful backdrop and sound system. He was very flexible with timing, when our guests were a bit late in arriving. HIS SHOW WAS OUTSTANDING. The children were mesmerized by his show. He involved many of the kids which they really enjoyed. He is a very talented magician with a creative and unique show. I would happily book him again as soon as I get an opportunity."
BUT HOW CAN THIS FUNDRAISING PROGRAM BE SO SUCCESSFUL?
Well let's think about a few things:
Minimal Costs for you: We will give you guidance to reduce preparation costs.
We provide the ready-to-print templates: Tested flyers, programs, and admission tickets.
No risks: You do not have to put money on the table!
Fun: A clean comedy show that everybody can enjoy!
Professional show: All the illusions and tricks are A+ material, already tested!
$4K+ in revenues for your school PTO/PTA: If you follow the step-by-step guide!
Bilingual show options: In Spanish, English and some Portuguese as well!
Self-Contained show: We bring everything we need for the show so you don't have to worry about anything at all!
Easy: You just bring as many people as possible to the show and enjoy!
That's right, all you do is schedule the location, promote the event, and sell tickets using the ideas we provide! We will bring a self-contained show, including our sound system and stage backdrop. Also, we are fully insured, so you will be safe with us!
SO WHY SHOULD YOU HAVE
MATIAS & THE MAGIC OF IMAGINATION
AT YOUR UPCOMING FUNDRAISER EVENT?
The Magic of Imagination is an invitation to discover the importance of using our imagination to achieve goals and make dreams come true. The show's unique blend of sophisticated magic that is age appropriate, clean comedy, high energy, a live bunny (available for family shows), music, and (most importantly) lots of audience participation that keeps everyone engaged and entertained, making your next fundraiser fun, exciting, and memorable, turning a family fun night into thousands of dollars for your school PTA/PTO!
Matias brings everything for the show and his set up is so smooth that you won't even notice he is there! He simply sets up a few hours before the show and then he is ready to provide a fun, interactive, motivational, inspirational, and educational experience for your guests.
And the show can be tailored for different age groups! Watch the videos below:
Matias is not just another typical American magician
Matias' charming accent along with his talent and unique charisma will delight your guests from the first moment they meet him. He knows they are the important ones and will treat them in a friendly and respectful way. You'll probably hear your guests talking about how wonderful he is.
In addition, he is aware and flexible to accommodate any traditions and practices including Jewish and Muslim communities.
Are you ready to learn Matias' secret about
why he is a lot more fun than any other entertainer?
FUN
Matias presents his magic in a fun and entertaining way that will keep both children and adults smiling from the moment they start watching the show!
CLEAN
Matias knows how to make people laugh. Indeed his clean comedy keeps them laughing without using foul language, or making references to sexual, homophobic or racial jokes. We guarantee Matias' show is completely clean, and he makes everybody feel comfortable.
INTERACTIVE
Matias makes the audience a part of the action. He knows it's all about them. And he makes them feel included by using interactive illusions and a lot of audience participation. Some guests will even join him on the stage!
ENGAGING
Matias' charming accent, along with his talents keeps everybody engaged and entertained, making your event a complete success!
"Fantastic entertainment for the whole family! The show was excellent! He is very engaging with lots of audience participation. The magic tricks were great, and left everyone wondering how he did them. The kids loved him and had a great time. See him when you can – it's so much fun!"
"Excellent show, entertaining! We thoroughly enjoyed Matias' show at our school. He engaged all the boys, grades 5–9 and had them interested and excited about magic! He also had them wanting to participate!"
"Magician Matias was nothing short of amazing! He came to our school and did a show with our small group of Kindergartners and then taught them some tricks. He was age appropriate, funny and sweet. We have some very shy children and he made them feel comfortable and happy. He even sent them each home with materials to do their own tricks! We would recommend him to anyone who is looking for a fantastic magician."
Matias, this is exactly what we are looking for in our next Fundraiser!
How does it work?
How many people are you expecting?
We know that every group is different, but you should plan for at least a 200+ audience to make this successful. The following table illustrates your revenue based on the size of the audience for your event and considering an admission of $8 per person.
As much as Matias would love to help small schools, our fundraiser program is best suited for groups of 200+. You will need a 200+ audience to make your fundraising event cost effective.
Please note that the money earned here is solely from tickets sold. There are other options to increase your earnings by a few extra thousand. We will share those tips with you as we work with you.
If you follow our system, you can easily draw a 300, 400 or even 800+ audience!
That's right, the more tickets you sell, the higher the percentage of the profits you keep! Your potential is phenomenal while the risk to you is non-existent!
You can set the Price of the tickets according to your community needs for as low as $6 or as high as $ 20 and also offer special family packages. You can offer a flat rate of $25-$45 for families up to 5. As an example, a family of 4 or 5 members will only pay $25-$45 instead of $32 or $100. For families larger than 5 members you can charge an additional $3-$5 per member. Family members are direct members in the family. Cousins, aunts, or uncles are not considered in this package.
"Magician Matias was excellent! It was such a pleasure to work with him and to hire someone who my colleagues agreed was EXTREMELY ENTERTAINING, PROFESSIONAL, AND FUN! I hired him for a magic show at our school. The kids loved the show! I have never seen them so engaged. His tricks were top quality and his connection with the audience was instantaneous. The students also loved his GREAT balloon twisting after the show. I would definitely recommend Magician Matias to my friends and colleagues for a work or social function! I am going to book him in for next year myself!"
"Matias was a big hit at the Cub Scout Banquet! Recently Georgetown Pack 50 cub scouts had the pleasure of being entertained by Matias the magician at their annual Blue & Gold banquet. This was an outstanding show and the audience was very well entertained. There were nearly 100 children (scouts and siblings) in attendance and they all enjoyed it very much. Lots of laughter and cheering, with much audience participation. The kids were on the edge of their seats throughout. Several children have told me since that Matias was "the best magician ever!" Two thumbs way up!!!"
"Fun, delightful, Great Illusions and kids were intrigued! Matias is a great magician and a really good guy too and very funny! Never hired a magician before and his website is very helpful if you don't know what to look for. It gives you an opportunity to see his performance. Plus, if you are hiring him for older kids, you can see from his posted videos of shows where audiences are older kids that he caters to a broad range of ages and is very good at it. We hired him to do a show for the school's grand opening and we heard several parents asking their children if they want him as the entertainer for their birthday party. We couldn't agree more. He had the attention of every child and even the parents, and that speaks volume about his performance. His tricks were so baffling to the kids but they were also so intrigued by it, they were glued to his performance. And one thing to point out why I keep saying he is a good person is because, he asked for permission first if he could use a party popper in his performance. Not only was he concerned of the loud pop but was also concerned that he was making a mess for us to clean. Doesn't that show how considerate he is as a person? He is."
Illusionist, Mentalist and Pickpocket Matias Letelier was Awarded Top GigMasters NY Magician & Mentalist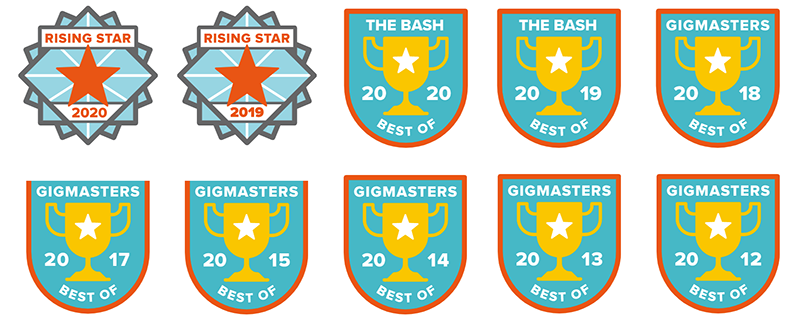 Are You Ready To Experience The Best Family Fun Magic Show
And make thousands of dollars for your School PTA/PTO?
Call Matias now to reserve your spot today!
DO NOT DELAY!
DATES FILL UP EXTREMELY FAST
———-
Request availability, package and pricing info by clicking the button below or calling 
(646) 476-9830