HOLIDAY PARTY ENTERTAINMENT
Book The Best Entertainment For Your Holiday Party
We Guarantee His Charming Accent Along With His Unique Blend Of Top-Notch Magic, Mentalism, Clean Comedy, Pick Pocketing, High Energy, And Lots Of Audience Participation Will Make Your Next Corporate Event Fun, Amazing and Memorable, Or You'll Get The Show FREE And We'll Donate $100 To Your Favorite Charity Just For Wasting Your Time!
MATIAS OFFERS THE FOLLOWING PROGRAMS FOR HOLIDAY PARTIES
» Illusion Shows
& One-Man Stage Show
» Walk-Around Entertainment
Stage Illusion Show With Assistant
This is a professional show that will turn your event into a fun and memorable night! You'll see Matias perform his world-class illusions with his assistant Coni. He will keep your guests engaged and entertained with his clean comedy and interactive magic. And will include your company's name or products in some custom tricks specially created for your event. Plus, Matias will pick-pocket some of your guest's watches, wallets, cellphones and more. Also 4 of your guests will float in mid-air in a trick that will have the whole audience hysterically laughing. And we guarantee everybody will talk about it for years to come!

This is a one man show (no assistant) that is better for small events or private parties at a restaurant. No need to have a proper stage and it can be accommodated to small venues. The Show includes some great illusions and lots of audience interactions. Matias also performs tricks especially created for the event by using your company's brand name, logo, specific product name or a special insight/slogan you might want me to use.

Close-up Magic / Walking Around
This is where Matias mixes and mingles with your guests performing short five to ten minutes sets that include top-notch magic, clean comedy, mentalism and pick pocketing. Everybody will be involved with the magic happening right in their hands and right up next to them. Just imagine your guests' faces when Matias turns five $1 bills into $500!

Magic&Wine: The Ultimate Wine Experience
Magic&Wine was an event Matias helped produce back in Chile for some of the best Chilean wineries. The idea was simple: to create an exciting experience around their wines that will make their prospective clients want to buy more wines. How did Matias achieve that? By incorporating magic related to wines into the program.
Today, Matias and Patrick bring that same exciting experience to you. Within the 2-3 hours program, you will have the opportunity to try some excellent wines while experiencing a series of tricks. All of them are related to wines.
Patrick will present four wines of his selected collection. He will tell you everything you need to know about them, and a reason or two to buy them.
Matias will present some of his favorite tricks. Magic&Wine is an attempt to bring the wine and magic closer to the audience in which they will actively participate. Some of his tricks include his awarded floating table, money tricks, bottle multiplication, mentalism and many more surprises.

"Matias was very professional and IMPRESSIVE! His show blew many people away and he had quite a following- he really had the crowd going! The event was hosted by Harvard graduate students. Everyone was very impressed with the performance and we look forward to working with Matias again in the future."
"He was great, professional and a pleasure to be around. Thanks "
"Matias was great! Very personable and would definitely recommend! "
"Thank you, Matias! Looks like everyone enjoyed you very much! I did get a lot of good responses from everyone! Thank you! We will definitely work with you again for future events!"
What Really Makes A Special Event Unforgettable?
We believe that a good quality show that keeps your guests engaged and entertained is the most important factor to making your event fun and memorable. But there are so many options to choose from and everybody will tell you they are "the best". Do you hire this person or another? It's frustrating to try and figure out who will please everyone, isn't it?
SO WHY SHOULD YOU HAVE
MATIAS' FUN CORPORATE MAGIC
AT YOUR UPCOMING CORPORATE EVENT?
Matias offers you quick and high impact tricks that will bring high energy, hysterical laughing and magic to your event. His close-up magic doesn't require a big stage setting. He simply mingles throughout the party providing a fun, interactive, up-close experience for your guests.
One of the most talked about tricks is Matias' "Wrist watch trick". Matias will pick-pocket some of your guests without them noticing. Many people scream with excitement once they realize Matias has taken their watches. This is great because it creates a lot of excitement for your guests. To see this trick in action, press play on the video below:
Illusionist, Mentalist and Pickpocket Matias Letelier was Awarded Top GigMasters NY Magician & Mentalist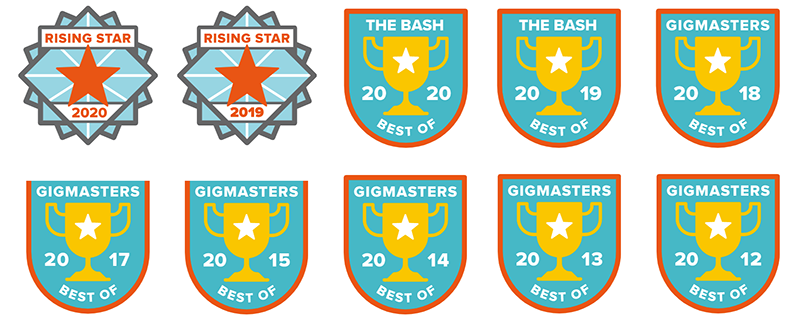 Are You Ready To Experience The Best Magic Show
For Your Next Holiday Party or Private Event?
Fill out the form bellow to book your show today!
DO NOT DELAY!
DATES FILL UP EXTREMELY FAST