Magician Matias Letelier
The New Hottest Corporate Magician
for Corporate Events and Holiday Parties in NY!
We Guarantee His Charming Accent Along With His Unique Blend Of Top-Notch Magic, Mentalism, Clean Comedy, Pick Pocketing, High Energy, And Lots Of Audience Participation Will Make Your Next Corporate Event Fun, Amazing and Memorable, Or You'll Get The Show FREE And We'll Donate $100 To Your Favorite Charity Just For Wasting Your Time!
Did you watch him at the YEP! event? Click in the video below!

We call Matias the Corporate Entertainment Specialist because he knows how to delight your guests with Fun Corporate Magic! Many times throughout the year he helps many event planners make their client's events fun, entertaining and exciting. The best style of entertainment for corporate and private events is a fun and interactive stage show where Matias performs illusions and comedy tricks; or close-up magic where the magic happens in the spectator's hands. Both will have everybody laughing, entertained, amused and amazed. Everybody will be involved with the magic as it includes lots of active audience participation. Just imagine your guests' faces when Matias makes a table float in the air or when he turn five $1 bills into $500!
We know how stressful it can be to plan an event. You want your guests to have a fun and memorable event…..and all while staying within a budget.
"Customers and clients really gave great feedback on Matias. He was engaging, funny, and gave wow moments to his audience. Will highly recommend him for corporate events and will use him in any of my upcoming future corporate events. Good job Matias!"
"Matias entertained us at a work party on Friday. He was fantastic! He's been the topic of conversation at work today. Our colleagues who didn't go to the party missed a great time. I would recommend him for your next gathering large or small!"
"Thank you, Matias! Looks like everyone enjoyed you very much! I did get a lot of good responses from everyone! Thank you! We will definitely work with you again for future events!"
What Really Makes A Special Event Unforgettable?
We believe that a good quality show that keeps the guests engaged and entertained is the most important factor to making an event fun and memorable. But there are so many options to choose from and everybody will tell you they are "the best". Do you hire this person or another? It's frustrating to try and figure out who will please everyone, isn't it?
SO WHY SHOULD YOU BRING
MATIAS' FUN CORPORATE MAGIC
AT YOUR UPCOMING CLIENT EVENT?
Matias offers you a show that will bring high energy, hysterical laughing and magic to their event. His stage showis self-contained so you don't have to worry about anything. He sets-up before the party begins and provides a fun, interactive and exciting experience for your guests. Or, if you would prefer, his close-up magic doesn't require a big stage setting. He simply mingles throughout the party providing a fun, interactive, up-close experience for your guests.
One of the most talked about tricks in Matias' stage show is his floating table. Matias will mention the story of his uncle and how he taught him the importance of using the imagination to achieve our goals and make dreams come true. After inviting everybody to think about his dreams and "magically" put them inside of a box that lays on top of the table, this one will start to fly through the room. To see this trick in action, press play on the video on thefollowing video!
Another amazing trick is Matias'' "Wrist watch trick". Matias will pick-pocket some of your guests without them noticing. Many people scream with excitement once they realize Matias has taken their watches. This is great because it creates a lot of excitement for your guests. To see this trick in action, press play on the video!
Matias is not just another typical American magician
Matias' charming accent along with his talent and unique charisma will delight your guests from the first moment they meet him. He knows they are the important ones and will treat them in a friendly and respectful way. You'll probably hear your guests talking about how wonderful he is.
Are you ready to learn Matias' secret about
why event planners love working with him?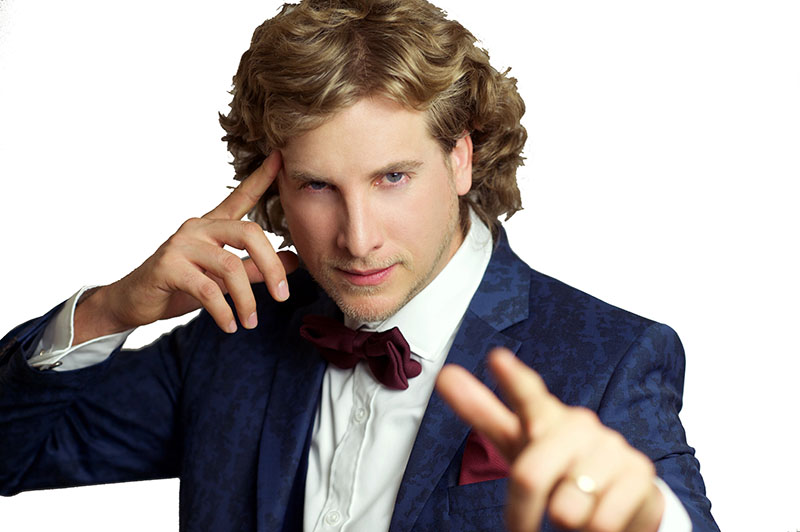 IT'S YOUR CLIENT
Matias knows that it is your client and he will handle YOUR business cards and will make sure their are extremely happy with you!
FUN & CLEAN
Matias knows how to make people have fun and laugh. Indeed his clean comedy keeps them laughing without using foul language, or making references to sexual, homophobic or racial jokes. We guarantee Matias' show is completely clean, and he makes everybody feel comfortable.
INTERACTIVE
Matias makes your guests a part of the action. He knows it's all about them. And he makes them feel included by using interactive illusions and many audience participation.
ENGAGING
Matias' charming accent, along with his talents keeps everybody engaged and entertained, making your event a complete success!
"Matias was great! Very personable and would definitely recommend! "
"He was great, professional and a pleasure to be around. Thanks "
"Matias was wonderful. His magic was excited and engaged. it was a perfect addition to our event. "
Check out the photos of actual shows
Click on the photos bellow to enlarge
Matias, this is exactly what I'm looking for my clients!
How much are your programs?
Stage Illusion Show With Assistant 
This is a professional show that will turn your event into a fun and memorable night! You'll see Matias perform his world-class illusions with his assistant Coni. He will keep your guests engaged and entertained with his clean comedy and interactive magic. And will include your company's name or products in some custom tricks specially created for your event. Plus, Matias will pick-pocket some of your guest's watches, wallets, cellphones and more. Also 4 of your guests will float in mid-air in a trick that will have the whole audience hysterically laughing. And we guarantee everybody will talk about it for years to come!
Stage Show With Illusions & Assistant
Deluxe Show 90 Min……………..$3,990
Premium Show 60 Min………….$2,990
Gold Show 45 Min…………………$2,490
Silver Show 30 Min……………….$1,990
Basic Show 20 Min………………..$1,490
One-Man Stage Show
This is a one man show (no assistant) that is better for small events or private parties at a restaurant. No need to have a proper stage and it can be accommodated to small venues. The Show includes some great illusions and lots of audience interactions. Matias also performs tricks especially created for the event by using your company's brand name, logo, specific product name or a special insight/slogan you might want me to use.
One Man Show With Illusions
Deluxe Show 90 Min………………$ 2,490
Premium Show 60 Min…………..$ 1,990
Gold Show 45 Min………………….$ 1,490
Silver Show 30 Min………………..$ 1,290
Basic Show 20 Min…………………$ 990
One Man Show Without Illusions
Premium Show 60 Min…………..$ 1,790
Gold Show 45 Min………………….$ 1,290
Silver Show 30 Min………………..$ 990
Close-up or Strolling MagicShow
This is where Matias mixes and mingles with your guests performing short five to ten minutes sets that include top-notch magic, clean comedy, mentalism and pick pocketing. Everybody will be involved with the magic happening right in their hands and right up next to them. Just imagine your guests' faces when Matias turns five $1 bills into $500!
We offer three possibilities:
Full Event: $ 2,490
Matias will be there during the full event or up to 5 hours.
Up to 2 hours: $ 1,490
This is perfect for groups of 50-100 guests.

Up to 1 hour: $990
This is great if you are having up to 50 guests.
"Chelsea Square Apartments celebrates every year with a summer BBQ. We brought Magician Matias back for a second time. The residents are mostly Latino. Old and young alike marvel at his magic. He is able to approach the most distant and bring them in. His mix of English and Spanish seals the deal! Highly recommended!"
"Matias was very professional and IMPRESSIVE! His show blew many people away and he had quite a following- he really had the crowd going! The event was hosted by Harvard graduate students. Everyone was very impressed with the performance and we look forward to working with Matias again in the future."
"Fun! Thank you so much!"
"It was a fantastic show!"
Ready to experience the best corporate magic show
for your company's next party?
Call us now to help you plan your next event!